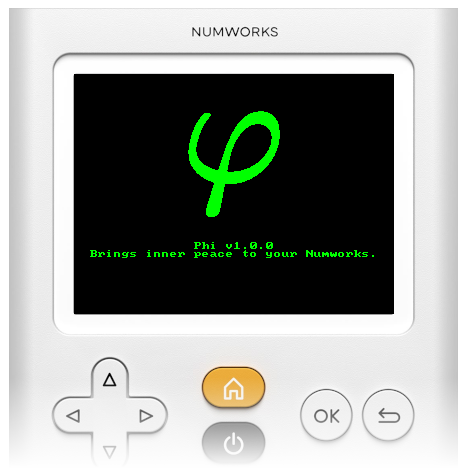 Phi Brings inner peace to your Numworks.
Phi is a jailbreak for the Numworks calculator with Epsilon 16 and higher. It brings back custom firmwares.
Features
Phi allows to do a lot of things:
Custom firmwares
Without any hardware modifications, Phi lets you to unlock your internal flash and install whatever custom firmware you desire, such as Omega, Upsilon, or Khi.
Epsilon 18
Phi includes a patched bootloader that allows you to boot Epsilon 18 without your flash being locked. There's no longer any need to pick between features and freedom.
Easy to install
Phi is just an external application that you install and execute. All you have to do is push three buttons.
Compatibility
Phi is compatible with every versions of Epsilon 16, 17 and 18.
Frequently Asked Questions
Why ?
I believe that user freedom is more vital than a company's economic success. Numworks didn't have to implement software lock the way they did.
Phi is just a tool for regaining the freedom you had before to the release of Epsilon 16. You no longer have to compromise between features and freedom.
Can I cheat using Phi ?
You can do whatever you could before Epsilon 16. Phi is merely a tool. Even if you discover a way around exam mode, don't use it.
Will Phi void my warranty ?
No, not in Europe, at least. If Numworks denies you a legitimate warranty claim as a result of this software modification, sue the fuck out of them.
Does exam mode remove Phi ?
No.
M4x1m3 - Released under CC-BY-NC-SA
This site is not affiliated nor endorsed by Numworks or Omega
Use Phi at your own risks.
No calculator were harmed during the development of Phi.